Office Removals Lea Bridge E10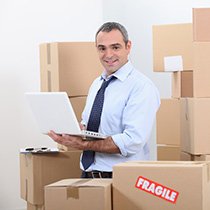 Relocation Lea Bridge: Your Business Our Move


Relocating a business is not something that you can take lightly. If handled badly the effects of a poor move can be far-reaching, leading to time and money losses that could have been avoided by careful planning and experience. We have specialists who understand the risks associated with different items, from fragile computers to fragile office furniture. Our experienced team is also aware of the different ways in which businesses operate, so we will always look for the best way to carry out a move whilst ensuring that you don't lose out on productivity during the move itself.

We understand that there are deadlines to meet once you are in your new premises, and we will make sure that your move is completed in good time. Moving company Man with Van Lea Bridge has the resources of its other branches to draw upon when it comes to manpower and transport, ensuring that no matter what type of business or how large your inventory is, we'll be able to help you on your goal journey.

Sometimes it's not just your equipment that needs moving, but personnel as well. When this is the case we will make all necessary arrangements for staff accommodation if relocating overseas or away from London. We will also make sure any IT support required during the transition process is provided quickly and efficiently so early access to systems can be had very soon after relocation.


Managed E10 Office Relocations

Our removal services are tailored towards business owners like yourself who don't have the time or energy to plan every detail of their relocation. We provide full door-to-door services, helping you through every aspect of the move and providing assistance wherever needed; from storage solutions to full packing service, including specialist materials for large items such as servers and sensitive electronics equipment.

Our core aim is twofold: firstly to ensure we get everything moved safely and secondly that nothing stands in the way of you getting up and running again in your new premise swiftly and without disruption. We integrate teams with other professionals, such as builders and designers when necessary, to make sure all parts of the move run smoothly, right up until everything is unpacked at your destination. This comprehensive approach ensures minimal downtime for your company so it can get back on track quickly with its regular activities.

After-sales service is also important - we understand that there may be a few issues remaining following our initial work so we are always available via phone
or email for quick resolution of any problems or queries about our services or our removals package.

If you decide to use us for your business relocation then rest assured you'll benefit from our full attention, dedication and commitment along with years of experience and expertise in office removals E10 Lea Bridge area. Put simply - choose Man with Van Lea Bridge for an effective, speedy and cost-effective commercial property relocation solution.